I could absolutely put some line here about what kind of year 2021 has been but I know what you're really here for – THE BOOKS. Probably the best part of any year in my opinion. If you're reading this, you most likely feel the same, so let's jump into it! (As a quick disclaimer, this small selection will be based on my personal tastes, as well as books that I think deserve some more love than they've received).
1) The Mismatch by Sara Jafari
The Mismatch is an amazing debut from British-Iranian author, Sara Jafari. Although from the outside, it may seem to fall into the 'opposites attract' romance trope, this novel is truly so much more than that. Set in modern-day Brighton and London, the story follows protagonist Soraya as she's finished her university degree in English Literature from Goldsmiths University. Following this, she comes to the realisation that she's never had any romantic or sexual experiences with the opposite sex as a result of her Iranian-Muslim background. When the university 'jock', Magnus, decides to take a chance on her, she inevitably has to follow a path familiar to almost all immigrant children – secrets, stress and more stress. Alongside Soraya's story, we also follow her mother, Neda, and watch her story as she immigrates from Iran to Brighton in the 1970s and 80s.
What I absolutely adored about this book was its specificity and simplicity. Jafari's writing was crisp and clean with an excellent pace. Most significantly, there are very few books that I've felt accurately capture the experience many British-Middle Eastern (and British-South Asian, in my case) children of immigrants face when falling in love. My heart truly ached at every twist and turn, as I was instantly able to identify with the difficulties of not only an interracial relationship, but that very unique experience of having to hold back a very large part of your life from your family for the sake of 'what other people think'. I learnt so much from this novel – particularly about the experiences of Islamophobia that are still present in the UK. This book has not gotten the true recognition it deserves, so I implore you to add it to your 2022 TBR! (The audiobook also does not disappoint)!
2) Dear Azula, I Have a Crush on Danny Phantom by Azura Tyabji and Jackson Neal
Do you love 2000s cartoons like Avatar: The Last Airbender, Ben 10 and The Lion King? Then do I have the book for you, my friend! Dear Azula, I Have A Crush on Danny Phantom is a tiny sliver of a book, but it is packed to the brim with nostalgia and some of the most gut-punching poetry I've ever read. As a poet myself, I am a huge advocate of making poetry more accessible and bringing it 'down' from its usual perception of being lofty and elitist and this pamphlet perfectly exemplifies that. It takes characters from the screen to the page so beautifully and is so cinematic in its writing. The poets expand and widen the horizons of what these cartoons are and speculate on what they could be, diving deep into the psychology of some of the most beloved characters like Zuko, Kim Possible and even Shrek. This is perfect to help you reach any 2021 reading goals, or if you need a quick hit of bittersweet nostalgia since it's short and sweet at 56 pages.
3) The Crossing by Manjeet Mann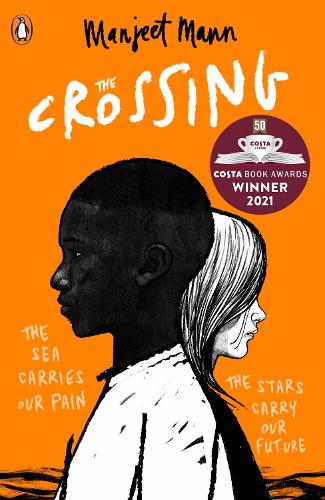 Continuing on with the poetry train, we have a brilliant novel-in-verse from Manjeet Mann – The Crossing. What makes this book shine is the number of ways that it explores the refugee crisis – from the characters themselves to the language to the way that the poems are shaped on the page. There are so many layers and levels to this book, which is something that's not often extended to the YA genre. The plot follows the stories of two protagonists, Sammy, a young boy fleeing his war-torn homeland in Eritrea, and Natalie, a working-class schoolgirl from Devon, trying to escape her own grief and familial trauma. Mann alternates between their points of view; each stanza starts with a line from the previous character's world, creating a seamless overlap of their experiences growing up in tumultuous circumstances. Due to the short lines in each stanza, the novel's pacing feels like two streams running alongside each other and intertwining, perfectly mirroring the title.
The Crossing is so innately human and moving – it was one of the few novels I read this year that made me cry. Natalie and Sammy are by no means held up as beacons of the wider societal issues they face – the refugee crisis and gentrification and demonization of the working-class in the UK – but rather what they are, children. Mann drops us into the middle of these two children's lives. Although there are many moments of heartbreak and grief, what actually makes it feel worse is that there are some moments of respite and joy. You're left constantly wanting the best for these characters, and for these larger forces pressing down on them to stop. All I can say is that in these trying times, this is such a cathartic read that will probably teach you more about the refugee crisis (in the UK in particular) than any newspaper or statistic ever could.
4) Lore Olympus: Volume 1 by Rachel Smythe
Now, if you're an avid WebToon user (like myself), then you may have already heard of this one and proclaimed your undying love for Hades and Persephone. Nevertheless, I do feel like outside of the WebToon/graphic novel community, this gorgeous book has gone unnoticed. Lore Olympus is Rachel Smythe's urban fantasy retelling of the Ancient Greek myth of Hades and Persephone that was originally published as a web-comic on the WebToon app. Needless to say, it has been extremely popular.
This year has undoubtedly been a strong one for Ancient Greek mythology retellings (Song of Achilles, anyone?), but what makes Smythe's stand out for me is her incredible art style combined with her incredible world-building. Lore Olympus is set against the backdrop of three planes – the Underworld, which is a dark, bustling city, Olympus, the more idealistic, homely domain, and the Mortal Realm, where Persephone was raised by her mother Demetris – all of which are beautifully illustrated. The colour palette of these three different landscapes helps to draw out each individual characters' personality traits. Hades, the King of the Underworld, is a deep, royal blue that blends into but equally stands out amongst the black skyscrapers, while Persephone, the Goddess of Spring, is a vibrant pink that mixes itself seamlessly amongst the flowers and fields in which she was born. This, in combination with Smythe's witty and animated writing, breathes fresh life into a myth previously fraught with misogyny and patriarchy. All I'm saying is, you can tell Hades is written by a woman, which is reason enough in my mind to give it a chance!
5) Self Care for Tough Times by Suzy Reading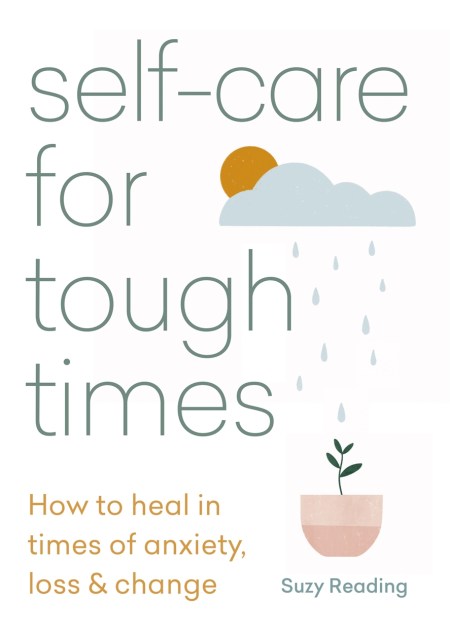 Finally, I wanted to add one non-fiction book to this list – Self Care In Tough Times by Suzy Reading. As you may be able to tell from my previous choices, I am certainly more of a fiction person. Yet, as a 20-something-year-old trying to find out what to do with their life while grieving the loss of my pre-pandemic lifestyle, I decided that reading this kind of book was very much needed.
What I really enjoyed about Reading's self-help book though was that it wasn't tackling a specific issue with a kind of problem – solution – outcome thread. Rather, her voice was extremely empathetic and soft. She spoke about the idea of a 'tough time' very broadly, drawing on her own experiences of grief and burnout, in addition to covering stress, anxiety and larger changes like breakups and moving house. She breaks down the science of these problems through beautiful illustrations (courtesy of Madeline Kate Martinez), graphs and tables. As well, she provides extremely gentle exercises for both the body and mind to help you move beyond whatever is burdening you. One of the main takeaways from this book, for me, was Suzy Reading's analogy of self-care being like planting a seed: we need to consistently nurture our seed in order for it to grow. In the same way, we need to consistently nurture our need for self-care in order to move on from tough times, not just once or twice when we're feeling down or burnout. Definitely some food for thought in 2022!
Image courtesy of Laura Kapfer